Miami City Ballet Celebrates Opening Night
of Its 20th Anniversary Season

by Barbara Storer
Society Editor and Columnist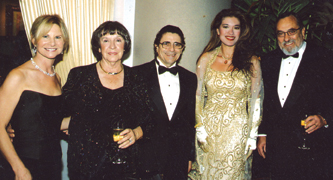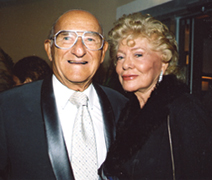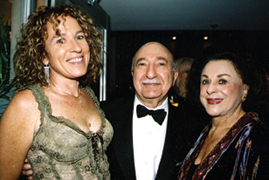 H.I.H. Princess Thi-Nga of Vietnam recently hosted a lavish evening of parties for Miami City Ballet's Artist's Circle members in honor of the opening night of the Ballet's 20th Anniversary Season.

Artist Circle members entered Jackie Gleason Theater through a private red carpet entrance, lined with palm trees and champagne servers. Photos were taken with Miami City Ballet's founding Artistic Director Edward Villella and were later given to guests as gifts. During intermissions, guests were again invited to the Founder's Room to sample an abundance of gourmet passed hors d'oeuvres and wines. The receptions provided an exclusive and deservingly glamorous opening for an evening of remarkable performances.

A very special announcement was made that evening. John Karlton, developer and resident of Bal Harbour, gave $1 million to Miami City Ballet over a seven-year period of time to go toward live orchestra.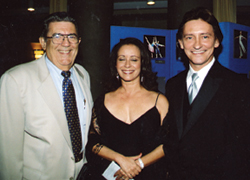 After the final ballet, Artist Circle President Bobi Eroncig invited guests to gather in the orchestra pit with Mr. Villella and the evening's hostess, H.I.H Princess Thi-Nga. The assembled guests applauded Miami City Ballet Founder, Toby Ansin and raised their glasses to a wonderful beginning of the 20th Anniversary Season. When the curtain behind the crowd lifted again, the stage had been transformed into a stunning, imperial banquet hall. The unique arrangement of the theater enticed guests to continue to dine past midnight.

Some of those in attendance included Linda Villella, Director of Miami City Ballet School; MCB Board President Mike Eidson and his wife, Dr. Margaret Eidson; John and Darla Karlton, Dan and Rosalind Richter, Marvin R. Friedman, Adrienne bon Haes, Dan and Tina Carlo, Sonia "Tita" Puopolo, Donald J. and Lisa Pliner, and Mavis and Howard Salus, Publishers of Entertainment News & Views.

This will definitely make the list of one of the best events of 2005!

PHOTO IDS

1 & 2. Linda Villella, Mavis Salus, Edward Villella, Princess Thi-Nga and Howard Salus
3. Sanford and Dolores Ziff
4. Shelley Acoca, P.R. Guru Charles Cinnamon and Judy Drucker

Photos by Sergio Alsina
---
Chef Norman Hosts "Pleasures of the Palate"
Benefiting the Diabetes Research Institute

by Barbara Storer
Society Editor and Columnist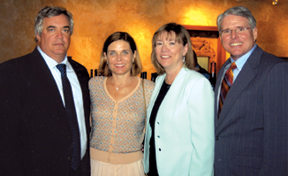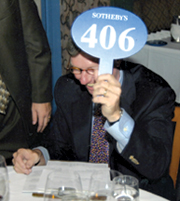 More than 100 dinners arrived at Chef Norman Van Aken's Coral Gables restaurant, Norman's, for the eighth annual Pleasures of the Palate, an elegant wine dinner that benefited the Diabetes Research Institute (DRI). Before the evening was through, guests contributed more than $140,000 to the cause, bringing the event's combined total to more than $1 million since inception.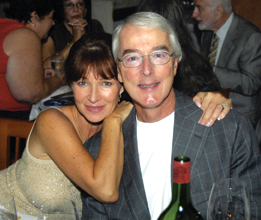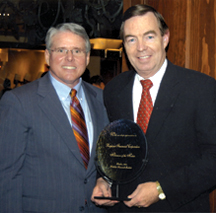 Latin Grammy nominee Roberto Perera provided musical entertainment as guests were then treated to a fabulous four-course dinner paired with the perfect complimentary wines, courtesy of National Distributing Company.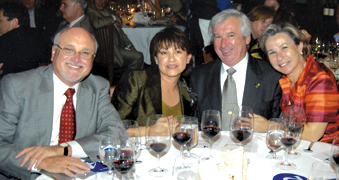 Between courses, Doug Gallagher, who hosted the event with his wife Sue, led the live auction which included a vertical of wine from the Gallagher's own cellar, Carnival cruises in the exclusive owner's suite, and an African safari. Top bidders included Robert Hector, Carlos Saladrigas, Jodi and Bob Dickinson, Moises Grayson, Carol Nudelman and Morton Blumberg, and Cherie and Jay Weinstein. Special thanks were extended to sponsors Regions Financial Corporation and the Headlands Foundation.

PHOTO IDS

1. Dr. Camillo Ricordi with his wife, Valerie, and Sue and Doug Gallagher
2. Robert Hector
3. Jodi and Bob Dickinson
4. Doug Gallagher, Edward Reilly
---